Help Make This Holiday Season Sparkle for Children & Youth!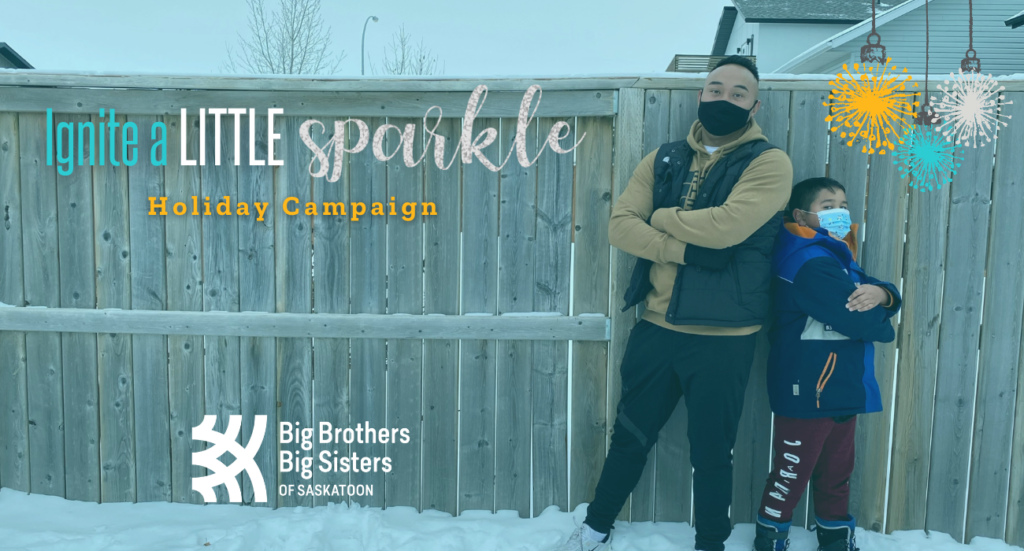 Kicking off today, on #GivingTuesday, the Ignite a LITTLE Sparkle Campaign will run for 5-weeks culminating on December 31. This year's campaign will highlight life-changing mentorship programs offered by Big Brothers Big Sisters of Saskatoon and Area and local companies who stand by and believe in youth empowerment. We are excited to announce our 4 community partners who will be matching donations of up to $1,000 each over the course of the campaign. Thank you to Penny Babbings, TD Canada Trust, Affinity Credit Union, and 7Shifts! Online donations can be made at https://saskatoon.bigbrothersbigsisters.ca/ignitealittlesparkle/. Our secured online platform makes it easy and efficient (charitable tax receipts automatically issued) to make a BIG difference. 
This year's campaign goal is to raise $10,000, which will be used to support matches and supporting connecting both safely face-to-face and virtually to IGNITE THE POTENTIAL of young people. All children and youth deserve to be shown they matter, have their mental health protected, and helping to develop a strong foundation that can provide a buffer in these challenging times. 
The COVID-19 pandemic has changed our community. Which has led to forced closures of facilities where people form and grow their relationships, including places/spaces that deliver critical programs to youth in need. But now, more than ever, children and families are facing increased anxiety, stress, fear, and worry. Mental health challenges do not stop when a pandemic begins. 
The Kids Help Phone reported a 350% spike in calls during the early onset of Covid-19, and continue to see a 100% increase in calls from kids experiencing anxiety and mental health concerns. Three in Four kids calling are reporting that they have no one to talk to; a frightening illustration of social isolation, as well as the essential service of mentoring.  
We are here, ready to leverage our volunteer recruitment skills and evidenced-based programs to ensure children and youth have access to critical Developmental Relationships that build resiliency in the face of adversity. With critical financial support, our matched and waiting littles will have access to trained Big Brothers and Big Sisters who will make them feel included, protect their mental health, and support their learning. 
"The COVID-19 pandemic is making this campaign more impactful than ever," said Kim Megyesi, Executive Director of BBBSS. "Right now, is a critical time to focus on children's health, wellbeing, and futures. We know that the COVID-19 pandemic has profoundly impacted the children and families we serve. Loneliness and social isolation can be difficult for all of us, but vulnerable families and children will suffer the most. We're looking forward to using the donations to support connections with mentors, find new mentors for the kids who are still awaiting their matches, and to support our programming." Our commitment to these young people and the service we provide is being challenged. BBBS is committed to maintaining and supporting the vital mentoring relationships we create to fight the social isolation of our most vulnerable youth.
Our revenue sources are being hit hard by COVID-19. They are critical to us providing our services, are disappearing. The financial implications of not being able to host any of our signature events will impact our ability to provide support for 160 matches this year.
Our goal is to help youth in the community find stability, better their mental health, and develop confidence and resilience to navigate through life's toughest challenges. We realize the emotional and financial hardships that our community is facing.  
Can we count on YOU to be on OUR nice list this season? Think BIG this Christmas and support Big Brothers Big Sisters of Saskatoon and Area. 
Thank you for your consideration! 
If supporting Saskatoon's most vulnerable children and youth with life-changing mentoring relationships this holiday season sounds like something your newsroom might be interested in, let's spread the good word!
 
For media inquiries, contact: 
Brenley Kroeker
Marketing & Communications Coordinator
Brenley.kroeker@bigbrothersbigsisters.ca
306-716-1797